Position:
PhD Student
Email:
marina.bakaric.16@ucl.ac.uk
Phone:
+44 (0) 20 7679 2329
Extension:
32329
Room:
Malet Place Engineering Building, 3.18
Address:
Department of Medical Physics and Biomedical Engineering
University College London
Malet Place Engineering Building
Gower Street, London, WC1E 6BT
I started my university education striving towards optics and materials science, but along the way found what I really wanted was to aim and contribute to further development in medicine, especially cancer treatment. After graduating from my BSc in Physics, I enrolled to MSc in Radiation Physics to gain a wider knowledge of the area, followed by MPhil/PhD in Medical Physics which I am currently doing as a part of Biomedical Ultrasound Group at UCL. My research project is based on photoacoustic thermometry and developing tissue-mimicking materials to assess tissue heating induced by high-intensity focused ultrasound.
Photoacoustic thermometry imaging for High-Intensity Focused Ultrasound
The main topic of my PhD research is the development of a novel method for accurate mapping of the temperature rise in tissue induced by high-intensity focused ultrasound transducers. Monitoring temperature is essential for the safe and accurate delivery of thermal therapies. However, existing monitoring techniques, for example, Magnetic Resonance Imaging, have significant limitations regarding temporal resolution and the monitored field of view.
Photoacoustic thermometry is based on photoacoustic tomography and is exploiting the temperature dependence of the photoacoustic signal amplitude. However, to allow the translation of this technique to a clinical setting, well-defined, versatile and stable phantom materials are required. These can then be used to assess the accuracy, robustness and applicability of photoacoustic thermometry in different experimental scenarios, as well as to validate thermal simulations of HIFU used during treatment planning.
My current work is thus based on developing and investigating different tissue-mimicking materials and assessing their suitability for application in photoacoustic thermometry.
Experimental study of beam distortion
due to fiducial markers during salvage HIFU in
the prostate
In this study, I experimentally investigated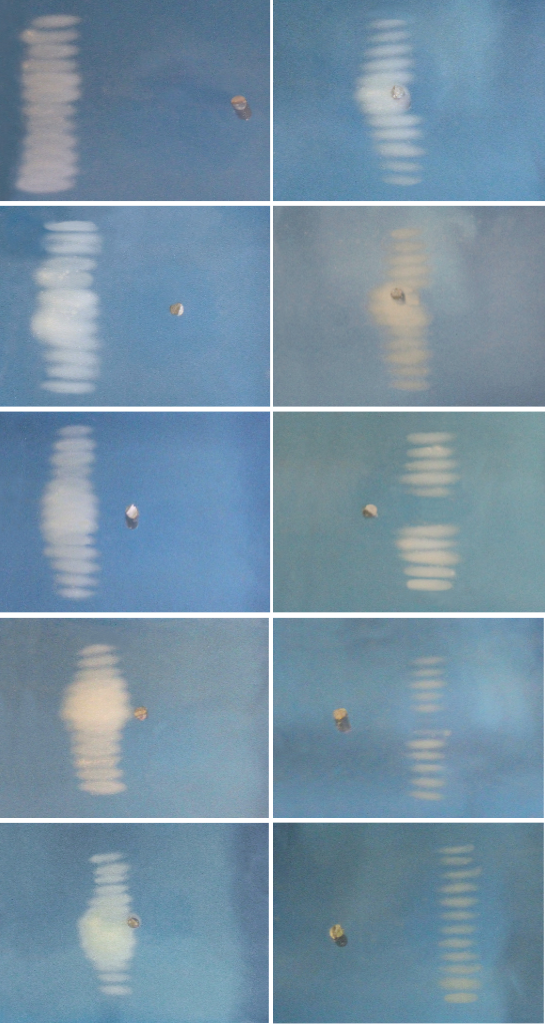 the effect of a
single EBRT fiducial marker
on the efficacy of HIFU treatment delivery
using a newly developed tissue-mimicking
material based on a
polyacrylamide hydrogel
containing bovine serum albumin
. The study has shown that the presence of a marker may result in an undertreated region beyond the marker due to reduced energy arriving at the focus, and an overtreated region in front of the marker due to reflections.
The figure is showing lesions produced in BSA PAG phantoms after raster scanning the transducer with the focus positioned in front of the marker (first column) resulting in an increase of the ablated volume, and behind the marker (second column) showing a decrease in the ablated volume, with a noticeable gap distal to the marker.
MPhil/PhD (2018 – To Date)
Medical Physics and Bioengineering, Department of Medical Physics and Biomedical Engineering, University College London
MSc (Distinction) (2016 – 2017)
Radiation Physics, Department of Medical Physics and Biomedical Engineering, University College London
BSc (Cum Laude Distinction) (2013 – 2016)
Physics, Department of Physics, University of Rijeka, Croatia